NATURAL SELECTION (USA)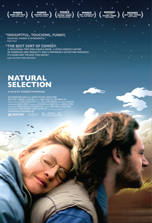 Coachella Valley Premiere – One Time Screening

Linda (Rachel Harris), a barren Christian housewife, leads a sheltered existence. Her world is turned upside-down when she discovers that her dying husband has a 23-year old illegitimate son named Raymond living in Florida. Somewhere on the edge of guilt and loneliness, Linda grants Abe's final wish and sets off on a quixotic journey to find Raymond and bring him back before her husband passes away. Along the way, Linda's wonderfully bizarre relationship with Raymond will teach her more about herself than she ever imagined possible & force her to come to terms with her troubled past. Opens in L.A. May 18, San Diego July 13.
Writer/Director: Robbie Pickering
Runtime: 90 min.
Distributor: The Cinema Guild
Genre: Comedy / Drama
Country: USA
Language: English
MPAA Rating: R (for sexual content, language, brief graphic nudity, a beating and some drug material)
Stars: Rachael Harris, Jon Gries and Matt O'Leary
FESTIVALS: USA – SXSW, Austin, TX; Ebertfest, Champaign, IL; Seattle International Film Festival; Los Angeles Film Festival; Chicago International Film Festival; Melbourne International Film Festival, Australia; Oldenburg International Film Festival, Germany; Athens Film Festival; Greece; London Film Festival, UK; Stockholm International Film Festival, Sweden; Glasgow Film Festival, Scotland
AWARDS: Athens International Film Festival, Audience Award, Best Film; Independent Spirit Awards, Best Female Lead, Best First Feature; Indianapolis International Film Festival, American Spectrum Prize, Best Narrative Feature; Kansas International Film Festival, Independent Vision Award; SXSW Film Festival, Audience Award, Best Narrative Feature
"It is hard not to love this film." Logan Hill, NY Magazine
"Insightful, touching, funny. Rachel Harris is wonderful" – Roger Ebert
Official website w/ Trailer: http://www.naturalselectionthemovie.com/story/