FIREWORKS WEDNESDAY (Iran)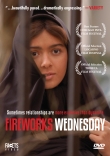 Coachella Valley Premiere – One Time Screening

All of Tehran is preparing to celebrate Chaharshanbe-Soori, or the festival of fire, which falls on the last Tuesday night before the Persian New Year. On this auspicious evening, Rouhi (Taraneh Alidoosti), a young woman from a poor neighborhood, is hired by a middle class couple to clean their house. Sweet, naive, and soon to be married, Rouhi's innocence is shattered when she finds herself in the middle of her employers" domestic dispute over accusations of infidelity.
Director: Asghar Farhadi (2012 Oscar, A SEPARATION, Best Foreign Language Film of the Year) Writers: Asghar Farhadi, Mani Haghighi
Runtime: 102 min.
Genre: Drama, Mystery
Distributor: Facets Multimedia Distribution
Country: Iran
Language: Persian w/English subtitles
Rating: N/R
Starring: Hedye Tehrani, Taraneh Alidoosti and Hamid Farokhnezhad
FESTIVALS: Locarno Film Festival, Switzerland; Thessaloniki International Film Festival, Greece; Nantes Festival of 3 Continents, Rencontres Cinéma de Manosque, Cannes Film Market, France; Las Palmas Film Festival, Spain; Around the World in 14 Films Festival, Germany; Chicago International Film Festival, Austin Film Society, Tribeca Film Festival, LA International Film Festival, US
AWARDS: Chicago International Film Festival, Gold Hugo, Best Feature; Fajr Film Festival, Iran, Best Director, Best Actress, Best Editing; Las Palmas Film Festival, Spain, Golden Lady
"Director Asghar Farhadi takes his time, allowing information to creep in at its own pace rather than trying to force it all upon us in the first ten minutes. But the most vivid element is his well-rounded characters – men and women truly relating to one another in both positive and negative lights". Combustible Celluloid
Website: http://www.facetsmovies.com/user/movieDisplay.php?movie_id=867732
Trailer: http://www.youtube.com/watch?v=rW93zMKsS7I